Imported Timbers do the heavy lifting
Publisher: Build Australia Magazine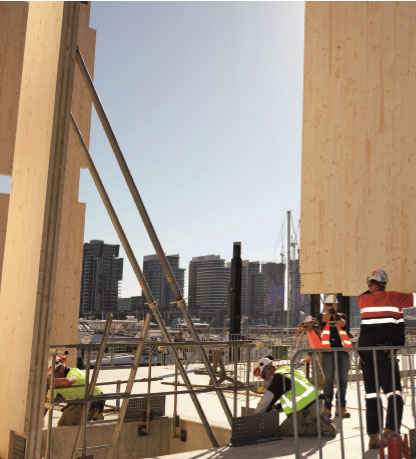 When the bum fell out of the iron ore price as China's construction boom slowed, the domestic building and construction sector picked up a good chunk of the slack in the economy.
Luckily for Australia, new housing went close to a quarter of a million starts in 2015 and continued to show real strength in 2016 and into 2017, notably in Victoria and New South Wales. Additions and alterations also continue to bubble along at an annualized rate of about $10 billion.
It is apparent that housing in Australia's largest cities is in the midst of a revolution. New apartment construction now outstrips traditional detached home starts. Also, it is clear that housing is moving in towards city centers and development hubs. So, it is inwards and upwards, and apartments, not houses, that are key
drivers behind today's city building boom.
Higher density housing represents a major transition in the way Australians live in cities, with potentially about one million new higher density homes being added to the housing stock in the next three decades through urban renewal and infill in Sydney, Melbourne and Brisbane alone.
A recent feature of the apartment boom is an increasing number of developments showcasing timber mid-rise buildings that are able to take advantage of timber's dexterity as a building material, as well as its strong environmental credentials. Whether it is timber's natural aesthetic attributes, engineering properties, durability or carbon sequestering credentials, timber is gaining traction as the building material of the 21st century.
Another compelling benefit of timber construction is its lightness and ease of handling. This is particularly relevant in dense cities, where conditions are frequently restrained and space limited.
Timber can help manage a site better. Sites are quieter, less dirty, less dusty, significantly safer and 'new generation' timber buildings can be up in a matter of weeks.
Good news you might think for the domestic timber products industry. However, scratch beneath the surface and – at least on the supply side of the equation – it's a very different story. No one is establishing new tree plantations, so in the future ongoing domestically-produced softwood timber supplies could be a bit like
Mother Hubbard's Cupboard.
So, with building and construction buoyant and timber product demand strong, the other side of the ledger shows domestic supply capacity flat-lining at best. Thankfully for the building and the construction sector, imported timber products are, and will continue to fill this widening breach. It is clear that without timber importers doing the heavy lifting house construction targets would not have been achieved and the 26,000 imported timber product-linked jobs, estimated by the Housing Industry Association, the construction, and building sector would be
under serious threat.
Further compounding – but in a good way – the present bullish building scene is the innovative, excellent effort of Forest and Wood Products Australia in working to have the National Construction Code (NCC) amended. These amendments, which took effect on 1 May 2016, allow timber buildings to push up to eight stories or 25 meters. This is a stunning outcome for the timber industry that will certainly increase pressure on the supply side. Some mid-rise timber towers have already been erected, others are under construction and a good number are at the design stage.
Architects, developers, designers, engineers, and builders have welcomed changes to the NCC that apply to both traditional timber framing and innovative mass timber systems – such as cross-laminated timber (CLT) which comprises multiple layers of wood glued together at right angles under high pressure to form the large wall, ceiling, and floor panels, and glulam, which is a type of structural engineered wood the product comprising a number of layers of timber bonded together.
By laminating a number of smaller pieces of timber together, a single large, strong, structural component is manufactured from smaller pieces. Glulam is used as vertical columns or horizontal beams, as well as curved, arched shapes. Glulam is readily produced in curved shapes and it is available in a range of species and appearance characteristics. These changes will allow architects to explore and demonstrate the potential of engineered timber, while also increasing the use of traditional timber framing. Ultimately, the code change will mean quicker, more cost effective and environmentally-friendlier construction of residential apartments, office blocks and hotel
buildings.
The hard reality is that the cross laminated timber, glulam, prefabricated flooring and other advanced engineered timber products that allow the industry to take advantage of the mid-rise building code amendments are not manufactured in Australia. They are imported by Australian Timber Importers Federation company members. No doubt about it, timber product importers are making a major contribution to the building and construction sector, and to the timber product supply chain. Expect to see timber imports continuing to drive the availability of sophisticated engineered wood products that will facilitate both the predicted strengthening of the residential new the housing market and the momentum of mid-rise building construction.
Editor's note: Australia's first and sole CLT manufacturing plant will be operational from mid-2017 and is expected to be one of the most technologically advanced plants worldwide. For the first time, projects will be able to use a CLT product that is designed and made in Australia from Australian timber.