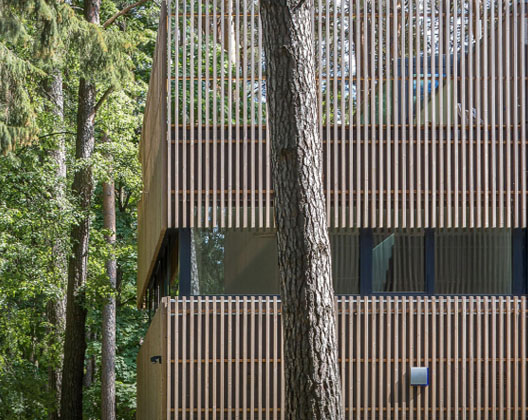 Specifiers Guide for Specifying Thermally Modified Wood
A Sustainable Alternative
Specifying Thermally-Modified Wood for Interior and Exterior Use
Introduction

Specifiers are transitioning from specifying traditional native and imported hardwood species to technically-advanced timber products from sustainable sources. This is occurring against the backdrop of a diminishing supply of traditional Australian native hardwoods as both Western Australia and Victoria seek arrangements to end native hardwood logging. Specifiers are also beginning to avoid potentially sensitive imported tropical hardwoods due to environmental (illegal logging) legislation. Increasing supply constraints are impacting the cost and quality of traditional native and tropical hardwood species for construction and joinery.
Wood is dimensionally and biologically unstable in its natural state, which makes it less durable than other common building materials. If used for building purposes without modification, these properties may cause problems over the course of its service life. Chemical treatment is the most common preservation method to increase durability. However, a relatively new, environmentally-safe and non-toxic technology called 'thermal modification' provides a compelling alternative as it uses no chemical compounds while making the product durable and stable.
Since the 1990s, when the technology was first made commercially available, thermally-modified wood has seen a sharp increase in popularity. Thermal modification results in a beautiful brown colouration and significantly improves the stability and durability of wood. The end product is a brand-new type of sustainable wood that is ideal for both interior and exterior applications.
With an increasing number of thermally-modified wood products available on the Australian market, the only barrier is education. The advantages of thermally-modified wood for interior and exterior use are not widely understood. This whitepaper seeks to address this gap, providing a guide to specifying thermally-modified wood and why it should be considered the premier option for modern construction.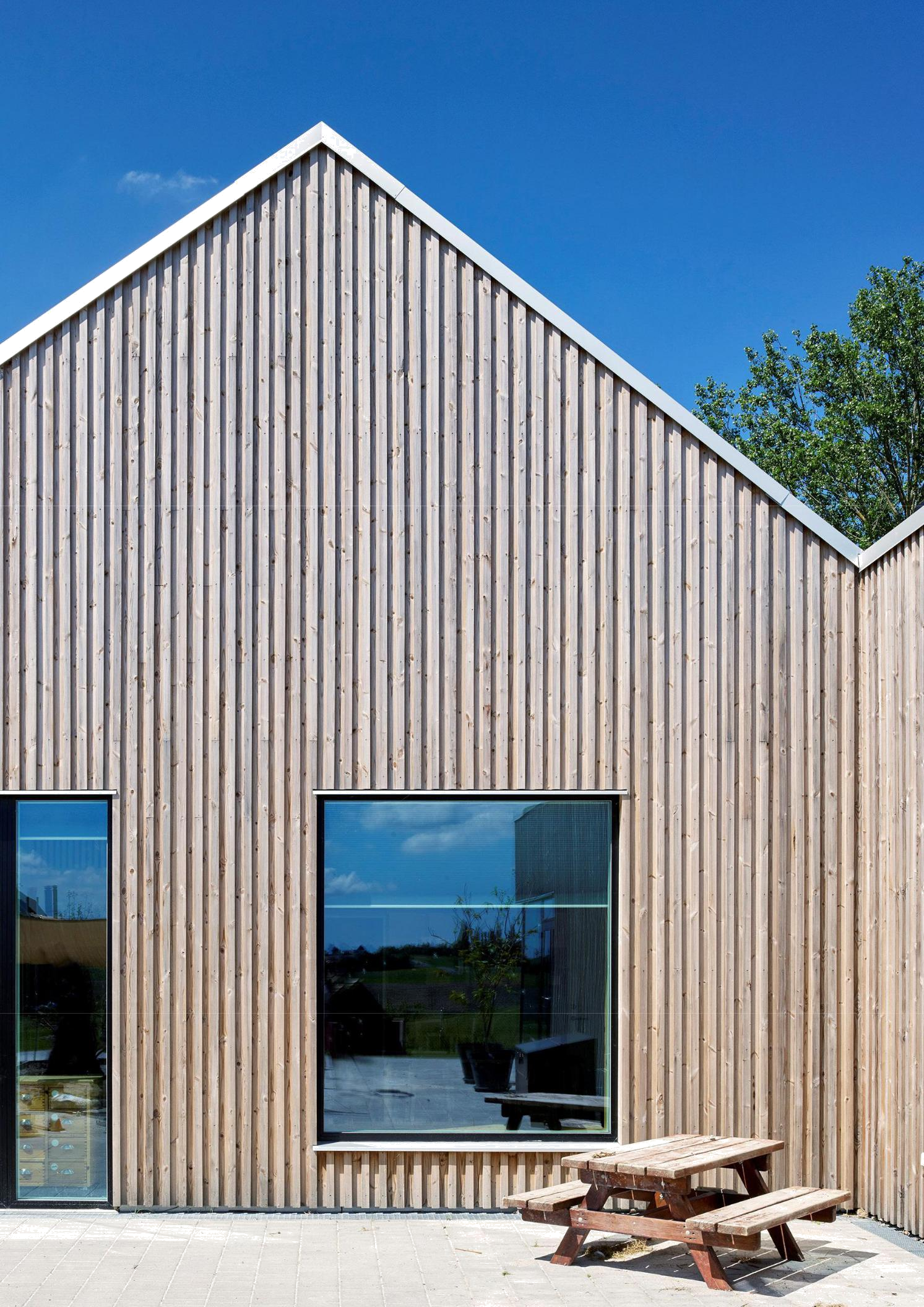 How does thermal modification work?
In place of pressure or chemically-treated wood products, thermally-modified wood is a safe, natural alternative. Unlike pressure treatment, which is a process that forces wood preservatives or fire retardants into the wood, thermal modification enhances the physical properties of wood without requiring any questionable chemical compounds.
The thermal modification process involves superheating the wood in high temperatures in the absence of oxygen to induce changes within the wood's chemical structure. This process is not to be confused with heat treatment, which exposes the material to significantly lower temperatures (approximately 55°C).
During the initial stages of thermal modification, wood is slowly heated in special kilns to induce high-temperature drying. This occurs in an oxygen-free environment to prevent burning.  After drying, the wood is heated to high temperatures (over 180°C) and held at the target temperature for several hours. The last stage involves cooling and conditioning the wood. As the temperature lowers, the wood is remoisturised to prepare it for use. Steam is used to protect the wood during the drying and heating process, and also to cool and condition the wood to the required moisture content.
By eliminating all organic compounds from the wood cells, the thermal modification process alters the cellular and molecular structure of the wood. This influences the properties of wood, namely the material's hygroscopicity and dimensional stability, resistance against fungi and insects, mechanical properties, and also properties such as colour, gluability, and coating performance.
Due to the increased dimensional stability and durability compared to untreated material, the concept of thermally modifying wood has become more widespread. The hydrolysis of hemicelluloses and cellulose at high temperatures reduces the number of sites within the wood where water molecules can bind.  As a result, the wood's capacity to expand or contract is diminished, which reduces one of the main factors contributing to water absorption and rot in outdoor applications. In addition, as a result of the wood's low moisture content, fungi and insects can no longer use the cellulose of the wood as a food source.
How thermal modification alters the look of wood
Thermally-modified wood naturally has a rich brown color, which is a result of the high-temperature treatment process. This quality eliminates the need for chemical varnishes or stains, the majority of which emit a variety of volatile organic compounds (VOCs) and necessitate ongoing upkeep. In many cases, all that is required to preserve this appealing natural colour is the application of a sealant to shield the wood from UV rays.
Ensuring a deep, longlasting color, the colour change goes all the way through to the very centre of the board. The colour coating cannot be removed by stripping layers from the floor's surface, such as by sanding. Keep in mind though that the wood will age and change appearance over time, and the color will vary depending on cook temperatures and species.
The final product has a more tropical and attractive appearance thanks to the rich, deep brown appearance that is typical of thermally-modified wood. With no sacrifice to aesthetics, this enables pricey tropical hardwoods to be replaced by more environmentally-friendly species.
 In brief: Advantages of using thermally-modified wood

· Increased durability over traditional wood.

· Increased resistance to insects, pests and decay.

· Higher dimensional stability than untreated wood.

· Lower maintenance requirements.

· Lightweight and versatile (enables lightweight construction).

· Sustainability through chemical-free preservation that increases product lifespan.

· Premium aesthetics.


Applications for thermally-modified wood
Increased durability and stability mean that thermally-modified wood may be used for indoor and outdoor applications in a wide range of settings, from private homes to highly-trafficked public spaces. It can be specified in environments that are typically harsh on untreated wood, such as exterior cladding, siding, and decking. Other applications include:
interior panelling, ceilings and wet areas;
joinery for windows, doors and mouldings;
battens for exterior screening and interior features; and
garden and sauna timbers.
One of the most important performance criteria used to determine whether a wood species is suitable for a given application is durability. Compared to other wood species that have been treated in other ways, thermally-modified wood generally achieves better durability ratings. Testing indicates that thermally-modified hardwoods gain durability class 1, and thermally-modified softwoods achieve class 2.
For reference, durability classes are set out in the table below, including above-ground and in-ground life expectancy.

Source: AS 5604:205 "Timber—Natural durability ratings"
If added protection is required, such as for exterior cladding, coated thermally-modified wood products are available. These products are coated with water-based paints that are environmentally friendly and tested for weather resistance.
As more people learn about the advantages of thermally-modified wood, manufacturers, designers, and architects are using it as a practical option for a variety of architectural applications. Its dark colour and performance make it especially appealing in interior design for ceilings, feature walls, and flooring. It can be a cost-saving option too with fabricators and contractors discovering that the enhanced stability and notable decrease in warping or cupping results in better yield and less waste.
Additionally, building with thermally-modified wood qualifies for a number of LEED points, such as those for low-emissions building materials and rapidly renewable resources. LEED (Leadership in Energy and Environmental Design) is the most popular green building rating system in the world and is available for virtually all building types. It offers a framework for environmentally friendly, highly effective, and cost-effective buildings.
Thermally-modified wood contributes to sustainable construction, such as that recognised by LEED, in several ways:
it enables lightweight construction, which is inherently less resource intensive than other building methods;
if sourced from sustainably-managed forests, it has minimal impact on natural resources;
thermal modification is a chemical-free process that has a reduced impact on human health and the environment (when compared to other preservation methods); and
any byproducts of working with thermally-modified wood, including saw dust, are non-toxic, making it a safe material to work with.
Wright Forest Products | Lunawood

Leaders in high quality timber and timber technologies, Wright Forest Products have led the market in the development of Thermally-Modified Wood since introducing the product to Australia almost 20 years ago. Wright Forest Products has a heritage in the timber business dating back to 1853 and today markets and distributes innovative and high-quality timber solutions from advanced timber manufacturers in Finland and Estonia.
Lunawood Ltd is an innovative pioneer in the thermal modification of wood and has grown to be the global Thermowood® market leader. The company's status is based on high-quality products, reliable customer service and professional employees. Their mills in Finland transform the very best Nordic Pine and Spruce into beautiful and longlasting Lunawood Thermowood. The patented production process is based on the gradual thermal modification of the wood, wherein the chemical and physical properties undergo a permanent change.
Lunawood Thermowood creates a connection between urban life and nature. Grown and strengthened in the harsh climate of Finland, the renewable and PEFC -certified forest provides the best wood material for this high-quality product, which is enhanced with heat and steam. Lunawood offers an easy-to-maintain, long-lasting and thoroughly sustainable wood products for all climatic conditions.
As a result of undergoing Lunawood's clean and ecological thermal modification process,  Thermowood is capable of maintaining its size and shape and resisting mould and decay in conditions in which the properties of untreated wood are insufficient. In addition, highlighting its superior dimensional stability, Thermowood pine reacts 40% less to changes in the moisture content of the surrounding air width-wise than corresponding chemically-treated wood.
Lunawood Thermowood can be used inside or outdoors, in any climate. As it is non-toxic, Lunawood is a sustainable and durable choice for facades, solar shades, joinery and other exterior applications as well as for interiors.
Forestry in Finland
Finland has the most forest land in Europe when compared to other nations. Finland's forest resources are growing because in recent decades, forest expansion has outpaced volume of harvesting. Today, Finland's forest reserves are now greater than ever before in the 20th century.
Forests are a renewable natural resource and a source of both prosperity and wellbeing for the Finnish people. Nearly 60% of the Finnish forests are privately owned, with one in five people in the country belonging to a forest-owning family. A private forest holding typically spans 30 hectares and, with everyone tending or felling his or her own trees, extensive uniformly-managed areas of forest have not developed. 
Specifying Thermowood®
Fire protection
Both interior and exterior Thermowood products can be coated with commercially-available flame retardant coatings for interior and exterior applications.
Thermowood is suitable for bushfire-prone areas for construction in sites assessed to BAL-19 in accordance with  AS 3959: 2018. It can be used in higher-rated bushfire zones with the use of flame retardant coatings for bushfire-resistant timber specified in AS 3959 on a variety of timbers (depending on species).
Species
Thermowood species include Nordic Redwood and Whitewood (Nordic Spruce and Scots Pine) but it also available in Radiata Pine, Larch, North American hardwood species.
Finishes
A unique benefit of Thermowood is that it requires no painting or staining. Outdoors it can be left natural to age to a weathered look. For lifetime performance, a coating may be applied to extend the product's lifespan indefinitely.
Prefinished products are ready to use with minimal installation costs and onsite coordination of trades.
Trademark
Thermowood® is the registered trademark of the International Thermowood Association (ITWA). Manufacturer members of the Association have to meet quality control standards and guidelines. Ensure the manufacturer of the product you specify is a member of the Thermowood® Association. There are other manufactures claiming they are Thermowood when they are not.
Compliance
There is no Australian standard yet developed for thermally-modified wood products. Thermowood is compliant under the fit-for-purpose test used in the European Union. For more information, refer to the Thermowood Handbook published by the ITWA.